The Gearbox Tribute to Wendell Scott............by Clint Yokley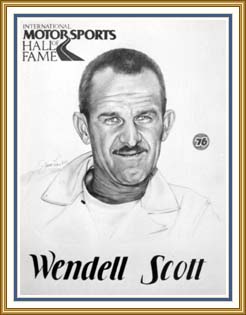 Most American motorsports fans have heard the name Wendell Scott. Very few know of his accomplishments in the motorsports communitity. Scott, the first black stock car driver, was recently inducted into the International Motorsports Hall of Fame. Wendell Scott now stands alongside the greatest racing drivers in the history of motorsports. The whos who on this list include; Ascari, Baker, Bettenhausen, Brabham, Clark, Donohue, Fangio, Garlits, Granatelli, Gurney, Hill, Johncock, Mears, McLaren, Penske, Petty, Shelby, Stewart, Unser, Vukovich.
Wendell never made a lot of money in stock car racing, just $180,000 in 500 starts. But he loved turning the wheel of a race car and driving the 500 laps it took each week to get there. He collected a lot of trophies in his racing career. But one likely stands out more than any of the rest. It marks Wendell's only big time win, a NASCAR race at Jacksonvlle, Fla., on Dec. 1, 1963. It's a simple wooden monument only a couple of feet high. It's also the reminder of a race Wendell won but was not given the honor of winning until a month after the race had ended.
Instead, Buck Baker, of Charlotte, N. C., was given the victory even though he finished in second place. Why was Wendell not given the win? He wasn't immediately recorded as the winner because of all the racial tensions of the times between black and white people. Wendell won the race. The flagman just didn't drop the checkered flag until Buck Baker raced by. Wendell knew he won the race and NASCAR officials finally admitted a month later that he indeed was the winner.
Buck Baker had already received the trophy, the glory and all the fanfare. Wendell demanded his prize money and was awarded the pathetic trophy that has no brass nameplate, and nothing to reveal its history or origin. With this incident and other frustrations resulting from racial prejudice, Wendell had every reason to quit racing and return to his humble auto mechanics shop in Danville. Instead, he decided to continue doing what he enjoyed most -- driving race cars.
Wendell had a big family life. He and his wife, Mary, first met in 1940. At the time of their meeting, he wasn't a race car driver. He was driving and repairing his own taxi cab. They dated a few times in the months that followed. But World War II was in full swing and Wendell was called to help defend his country. When he returned to the United States, they were married.
Five years later, NASCAR began to hold races near their home and Wendell wanted to be part of the action. He already knew how to drive fast. Over the next few years, Wendell and his wife had six children. Their names -- Wendell Jr. , Frank, Ann, Deborah, Kay and Sybil. There were plenty of mouths to feed while at the race tracks and one of Mary's specialties was cooking. Often times there would be fried chicken, ham biscuits, potato salad and deviled eggs for her children or anyone who would stop by their small truck for lunch.
The Scott family had many friends on other struggling teams. Skin color didn't matter with them. They had the common bond of problems brought on by limited money and they helped each other when they could. Many times, Wendell did not have the money to race at the front of the pack from week to week. There were many times when he would have to save his equipment in hopes of racing the next week.
Hollywood celebrated the life and times of Wendell Scott with the 1977 motion picture "Greased Lightning". The film starred Richard Pryor as Scott, and was a very accurate depiction of Scott's underfunded struggle to compete in NASCAR racing.
Wendell suffered through a bad accident at Talladega Superspeedway in 1973 and decided to stop racing as a result. During the next 18 years before he died, Wendell busied himself by fixing cars in his shop and keeping up with stock car racing by watching TV or listening to the radio. Even though he had a limited education, Wendell taught his children the importance of finishing their education. Each of his children worked hard to finish high school and went on to get college degrees as well.
Wendell Scott probably had a harder time trying to race than white racers. But he didn't let frustrations over racial prejudice make him hostile or violent. He was a determined man who demanded what he rightfully deserved. He had a dream of driving stock cars and the courage to follow his dream. He didn't let obstacles stop him from doing what he wanted to do in life.
The Gearbox Motor Speedway salutes Wendell Oliver Scott for his induction into the hall of fame. He started as a taxi driver, and hauled illegal whiskey in the hills of Virginia. His voracious appetite for building engines and racing against NASCARs best on a shoestring budget will never be forgotten.
---
|| BACK ||