Well, the sportscar season has ended. My only regret is that I could only make it to two venues this year (Sebring and Lime Rock) due to work obligations (damn I need more vacation time!). Since it's been a while since I've had enough time to sit down and throw some words up on my monitor I have to apologize; first to Clint - for not keeping my updates coming on a regular basis, and then to my loving audience...*snicker*. While I don't have the insider expertise that Mr Fuller has, I read a LOT about racing on the 'net and watch more racing on TV then most 3rd world countries! So let's see....since I last addressed you we have seen not one, but two different Mercedes Benz' flip at LeMans; BMW throw away a gimmee win at Road Atlanta; a new organizing body was introduced; and Greg Moore perished at Fontana. Additionally, I attended my first SCCA Regional event at NHIS to cheer on my mechanic.
Once again this year I pulled an all nighter to watch Speedvisions (SV) coverage of LeMans. I had all the necessities ready to go a day in advance: case of beer (1 an hour - get it?), batteries for my clicker, $50 worth of junk food, the number for the pizza joint preprogrammed in my phone, high speed internet connection, and my shades.
The magic that transcends this race has captured me. Since it was impossible to see the race coverage before the introduction of Speedvision I never knew what I was missing. Now, in addition to the 'racing network' I have multiple websites that are dedicated to covering the yearly gala in ways that were unthinkable just 5 years ago. Live, round the clock commentary from track side announcers, live timing and scoring, almost real time photo updates - we're talking serious technology here folks. So there I am, sitting in front of my PC keeping one eye on the timing and scoring tables and the other on SV's televised coverage.....being the hermit/troll that I become during big racing events.
Much hubb-bub was made of the BMW LMP entry going up against the swoopy silver arrows of Mercedes. While some of the race's luster may have been lost by Porsche's decision not to run the 24 this year their absence was easily made up for with the addition of two new Audi body styles, the Panoz roadsters, and the Lola Judd. Not to single out the proto class, but hey, they're the one's that the crowd comes to see and that's where the money and technology is. In the Audi's case picture this: the factory decides they are gonna put together a full bore effort. They tap Audi Motorsport UK to get the job done and then decide that an open cockpit car is not going to be enough. The designers go back to the drawing board and return a few weeks later with a coupe version of the R8. Not just a hack job but a new design. These are heady days at VAG where they want to make a presence in motorsport and are willing to dole out big money to get it done. Don't be suprised if you see an entry at LM next season with a VW motor. All the glitz for Mercedes went poof in a nanosecond when the CLR became airborne and flipped into hilight film history - and much like the tragedy at LM in the 50's this was not the type of history that MB wanted to create. The incident prompted MB to close up shop and head back to Stuttgart to analyze why two of their multimillion dollar pride and joys had done their best to impresonate aircraft. A couple months after I read that the chassis had been cut up in an attempt to clean the memories of this aerodynamic blunder from the company. BMW really took this race to task and did nearly everything spot on. A late charge by the scary looking Toyota GT ONE was for naught as BMW was clear by almost 1 lap at the stroke of 4.
Ah....but they couldn't rest on their laurels when they came back to the US to run the American LeMans Series crown jewel at Road Atlanta. Once again it was shown on national TV that concentration is paramount in motorsports. With 4 laps to go Jorg Muller over cooked it into turn 10, locked up the brakes, spun the car into the trap and let the Panoz LMPR take the lead and eventually the win. The toughest part about this was that Muller was not even be pushed!! Hello? Brainfade? ACK! If my memory serves me correct there was a big 'ole bonus on the line for any team that could win Sebring , LM, and the PLM. BMW Motorsport had 2 out of the 3 with the booty in their sights and then watched it fade away in a cloud of kitty litter filled smoke....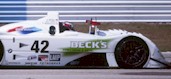 Grand Am. Gee, what originality eh? Brought to you by your favorite strong armed King of NASCAR down there in Daytona. The premise of this new racing body appears to be wholesome on the surface but come on! Bill France isn't getting into it because he likes sportscar racing, he likes money and power. And since he owns DIS he's got both going for him. Holding the grand daddy of North American endurance racing in your cards is enough power to make people listen. The interesting thing here is the venues that are utilized by the series and some interesting rules twists. Obviously Daytona is on the schedule, but also Road America and Mid Ohio! WOOHOO, rolling road courses. I have to admit that GA is laying it to Dr. Panoz by rustling up some domestic venues that are super.
While Panoz's vision of a united global sportscar series is wonderful and will surely bring out the European top dogs, the venues that he has secured are going to be hard pressed to compete on a level field with the GA tracks. Of course Sebring and Road Atlanta are beautiful, but what should the fan make of races at converted speedways (Charlotte, Texas, Las Vegas)?? Sportscars at Daytona is one thing; the drama on the banking at 3am makes you forget that you're at a big arse OVAL! But Charlotte? Or worse yet LV?? (neither of which have any local TV audience or interest for sportscar racing). Lowe's is going to have to give away a truck load of tickets to make the gate numbers look good on paper: "thanks fer buying that plunger sir, would ya like 2 complimentary tickets to the spurtscar race at the Speedway?"
And now GA has released their rules package which has a clause in it that would allow the BMW V12. hmmm......seems as though GA is looking to attract the big boys (at least the privateers) to Daytona too! We shall see.......
Halloween '99 was a sad day in my house. 106 weeks earlier I was at Sebring for their FIA GT 'Octoberfest' event. I was there to Klaus Ludwig and Bernd Schneider in the AMG cars that I had watched dominate on TV all season. Walking through the paddock on the morning of the race I saw a kid whizzing around on a scooter that looked familiar. I was one of the first people in line for the Mercedes team autograph/meet the driver session. And there, sitting at a table in the hospitality tent, talking to Norbert Haug, was CART driver Greg Moore - in an AMG drivers suit!
Nowhere in the program was he listed to drive but there he was, all ready to rock and roll with the top guns in GT racing. As the crowd gathered, those in the know were buzzing that Moore was apparently going to be a guest driver. Moore spoke briefly and answered questions from the media before pulling up a seat and signing autographs for the fans. I spoke to him briefly as he signed my event poster and a CART print that MB was giving away to the crowd. He took a moment to look directly at me as he answered my question about the CLK he was going to drive and then thanked me for coming out to the event. There I was speaking to my favorite CART driver totally by luck. A great racing memory for me.
I read the report that Greg had succumbed to his injuries at Fontana before I saw the crash - I had arrived home from shopping about 30 minutes later than I had planned and missed it. I watched the itty bitty video clip on espn.com but didn't realize the gravity of it until later....... When I saw replay again during the ESPN tribute, for some reason, all I could see was his smiling face when he handed me the autographed items at Sebring. I began to weep slowly as the tub of the car disintegrated in slow motion on the television. I was soon sick to my stomach and had to sit down to collect myself. Here I am, 3000 miles away and feeling like someone had kicked me in the chest. All I could do as a fan was to drape my model of #99 under a black flag in homage to a talent that was squelched before it had matured.
All I can hope is that now Greg is giving Senna and Clark a battle on a track somewhere better.
In closing, I wanted to point out something that I have not seen touched on elsewhere. This had to have been, by far, the most abysmal year in history for Daimler Benz (Chrysler). Not only did they have to withdraw from the biggest sportscar race in the world due to a life threatening design flaw in their race cars; but they were associated with not one, but TWO deaths in CART racing this year. *By NO means do I imply that MB had any part in the demise of Rodriguez and Moore*. However, they were major sponsors of both teams and can only be hurt by these disasters. No one could ever wish such horror on a competitor.